Hanfparade - Demonstration for the Legalization of Cannabis
"Hanf" is German for "hemp"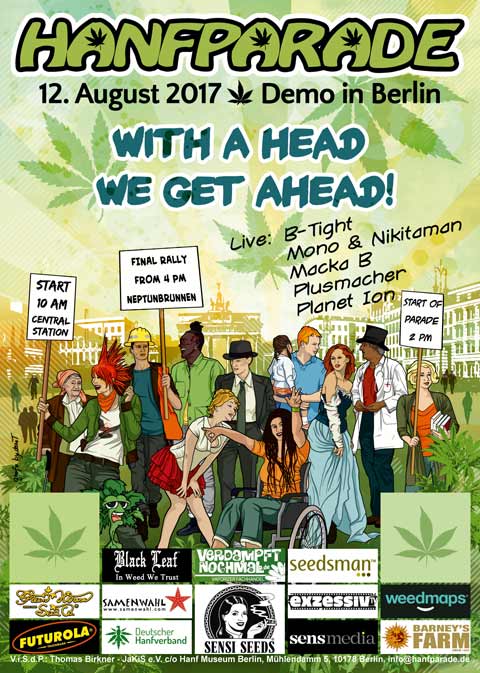 The Hanfparade is the traditional and german-wide pro-Cannabis march in Germany. Every year in August we gather for the legalisation of Cannabis as resource, medicine and recreational drug.
There were 10.000 to 13.000 participants from all over Germany and the world to the Hanfparade in last year. We want to top it this year so: tell your friends, bring your friends!
This years motto is "With a head we get ahead" (Breiter kommen wir weiter) We meet at 12th of August 2016, 10am @ Washingtonplatz / next to Central Train Station
Hanfparade is a march and a movement to push ideas on how the legalisation of Cannabis can be done. We fight for the human right to use Cannabis as resouce, medicine and recreational drug.
Route of the march
10 am Main Train Station - Washington plaza
We want to show how usefull hemp can be and how colorfull the participants of the Hanfparade are: coming from all classes and parts of society! Come and show yourself!
2 pm - rally starts

With a rally through the center of Berlin we will show the city our lifestyle and the political message!
3 pm - Ministry of Health
We want to remember at this point that still ill people can only get Cannabis in special cases. We want free medical cannabis for everyone who needs it!
5 pm - Alexanderplatz (next to Mayors House)
At the big end rally we offer informations on Cannabis and its uses, live music and speakers at the Stage, the area of industrial hemp, the Forum for medical cannabis as well as many other, colorfull offers.
10 pm - End
After the parade there will be topic parties all over in Berlin clubs.
The demo then follows a route to the Alexanderplatz. At the street Spandauer Str we will make our political message heard upto 10:00 pm in the evening.
Although registering the demonstration has been the first step, it is still a long way from becoming a colourful and powerful event. Help us make the Hanfparade a success. Help us legalise Cannabis! Support the biggest German demonstration for the legalisation of Hemp as a sponsor, work in the organisation team or spread the word and make the Hanfparade more known in your region.
Whoever is in favour of an end to prohibition and the "war on drugs" or even just wants to get factual info, is hereby called upon to support our demands and enrich the biggest German demonstration for the legalisation of Cannabis with your participation.
---