History of the Hanfparade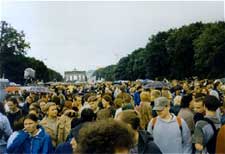 The first Hanfparade took place in 1997 and tens of thousands of people followed the call for the legalisation of cannabis as raw material, medicine and natural stimulant. Since then it has become more than "only" the oldest and biggest German legalise cannabis demonstration. It is a family meeting of the hemp scene, speaking corner for cannabis patients, hope for hemp prisoners, party with DJs and live music, platform for legalise campaigns and it presents politics and information about hemp.
These are the slogans of the Hanfparade demonstrations:
1997 - Legalisierung jetzt! Mit Hanf in die Zukunft
Legalisation now! With hemp into the future
1998 - Der Kampf geht weiter
The struggle continues
1999 - Mit Hanf in die Zukunft
With hemp into the future
2000 - Legalize it globally!
2001 - Kein Krieg gegen Pflanzen
No war against plants
2002 - Für Hanfgebrauch! Gegen Hanfmi§§brauch! Aufklärung statt Verbote!
For hemp use! Against hemp mi§u§e! Education instead of bans!
2003 - Gebt das Hanf frei!
Release the hemp!
2004 - Get Wise – Legalize! Drogenfahnder zu Kleingärtnern!
Get wise – legalize! Drug squads to garden plot holders!
2005 - Wir sind das Hanf!
We are the hemp!
2006 - Legalisierung Jetzt! Umdenken statt Milliarden verschenken!
Legalisation now! Rethink instead of wasting billions!
2007 - Gib mir 5! Gegen Gift im Gras!
Give me 5! Against poison in the weed!
(5 refers to 5 plants to grow)
2008 - Jugendschutz, Verbraucherschutz, Legalisierung!
Protection of minors, consumer protection, legalisation!
2009 - Für eine freie Wahl!
For a free choice!
2010 - Cannabis ist (Welt)Kultur
Cannabis is (World) Culture
2011 - 40 Jahre sind genug – BtMG ade!
40 years are enough – Bye bye BtMG*!
(*BtMG = Betäubungsmittelgesetz = German Narcotics Act)
2012 - Freiheit, Gesundheit, Gerechtigkeit!
Freedom, Health, Justice!