Cannabis Is World Culture - Hanfparade 2010
Press release from the Hanfparade on 28 November 2009
On Saturday 7 August 2010 the Hanfparade 2010 will take place in Berlin under the slogan "Cannabis is (World) Culture". This tradition-rich demonstration wants to put the knowledge about the cultivated plant hemp, German: Hanf, and the legalization of its use as raw material, medicine and stimulant onto the political agenda.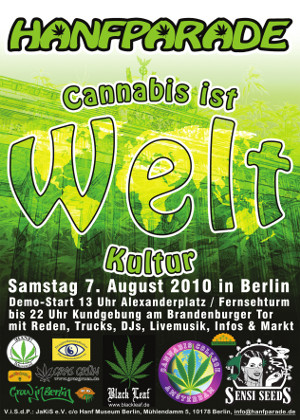 The knowledge of hemp culture has largely disappeared from the general public over the last 150 years. For example, in the fifteen-volume Meyer's encyclopedia of 1874-1878, the article "Hemp" covered more than 4 pages. In the twenty-volume Brockhaus encyclopedia of 1929-1935, "Hemp" received a single page article. And in the 1974 twenty-volume Knaurs encyclopedia, "Hemp" was reduced to a mere half a page. (These are the most respected encyclopediae in German language.) Political and business stakeholders have proactively contributed to the atrophy of hemp knowledge by propagating false and misleading information intending to create fear.
The Federal Drug Commissioner Sabine Bätzing in 2009 still claimed that cannabis has no medical effect - the same year in which the largest organization of doctors in the USA, the American Medical Association (AMA), revised their long-held position that cannabis has no medical value and only one year after the second-largest national association of doctors in the USA, the American College of Physicians (ACP), issued a statement which called for an "evidence-based review of marijuana", since the medical effects of marijuana are regarded as proven. Over the last few years, the International Association for Cannabis as Medicine has published hundreds of abstracts of studies that support the efficacy of cannabis as medicine. It is likely that in America there is a better understanding and analysis of our requirements than in Germany.
Germans with subsidized heat-insulation (paid for by the State), are missing out because their houses are often insulated with petroleum-based Styrofoam. Renewable, and therefore sustainable hemp insulation is rarely used and is not specifically encouraged; even though insulation materials made of hemp, unlike Styrofoam, are breathable and create a better climate with less condensation. In addition, hemp acts as a fungicide and reduces the formation of mold in the walls. Thus one of our calls is for exclusive subsidization of sustainable building materials like products made of hemp.
For a long time paper was produced from hemp fiber. Paper production from wood has only become common over the last century. If it weren't for the demonization of hemp and if people had cleaved to hemp in paper production, then thousands of square miles on this Earth would still be forested, not deforested as debased grounds, and the "climate catastrophe" would be some sizes smaller. The Hanfparade here calls for a "compensation" by the propagandists of prohibition.
For thousands of years, hemp flowers and products of hemp flowers have been used in "magical" elixirs (think of Getafix, the village druid of the Asterix comics) which are used both in religious ceremonies as well as health. These uses of hemp are an important cultural heritage and therefore must be protected and not criminalized.
The Hanfparade requests that the entire hemp culture, both the art of using hemp as raw material, as food, as stimulant and as medicine, is allocated to the intangible cultural heritage of UNESCO and removed from the present authorities, which are focused solely on criminal prosecution. Furthermore, the seeds of different varieties of hemp respectively breedings of hemp, are to be protected for reasons of biodiversity (biological diversity) and put under the control of the substantial UNESCO World Heritage. In order to give expression to this demand, we will demonstrate on Saturday 7 August 2010 in Berlin under the slogan "Hemp Is (World) Culture". Anyone who wants to support this claim, is cordially invited to participate in the preparation of Hanfparade 2010.
Spokesman
Steffen Geyer
This e-mail address is being protected from spambots. You need JavaScript enabled to view it , Phone: +49 178 659 43 99
Address
Hanfparade
c/o Hanf Museum Berlin
Muehlendamm 5
10178 Berlin - Germany
E-Mail: This e-mail address is being protected from spambots. You need JavaScript enabled to view it
Web: en.hanfparade.de
Videos from the Hanfparade 2010
Here we have all our videos from the Hanfparade 2011 - 43 videos: