How to get to the Hanfparade
Of course Berlin is always worth a visit but the weekend of the 12th August 2017 is especially worth a journey. Here are some travel tips for you:

Our special recommendation: Travel in a group! Not only does it save costs and is environment friendly but is also more fun! Tips for travelling and our own ride sharing page can be found on our travel tips. Who ever wants to organise a bus trip, there is detailed information in the area Volunteer! Scheduled bus trips, which we have been informed about, are already available and can be viewed on the Travel Arrangements side.
Our meeting point and the start of the march is at the Washington Platz next to the Main Train Station of Berlin. Take the exit to the south. There are be signs everywhere. At the place our parade floats with their political and musical messages won't be easy to ignore!
Train
Many international and regional trains, subway, and buses stop directly at Main Station.
Especially cheap are the various special offers, "Schönes-Wochenende-Ticket", "Quer-durchs-Land-Ticket", discount on group travel and the "BahnCard", which start at 10€ for adolescents. These offers pay for themselves after the first journey. Attention: Many offers have to be booked long in advance as they are limited. You should also keep an eye on direct competitors like InterConnex, which connect Leipzig and Rostock to Berlin.
Hanfparade connecting europe
It is nice to have an meeting point at the Hanfparade, but how to get there? We have partnered with Raileurope to give you an good ride:
Bus
We have 3 common international bus stations in Berlin:
The Central Bus Station (ZOB) is located at the "Funkturm", Masurenallee 4-6, 14057 in the western part of Berlin. From there it takes about half an hour from "Messe Nord" to Main Station by commuter train. The company "BerlinLinienBus" offer various bus travel options to Berlin.
If you want to touch down in the east part of Berlin, your destination station is "Alexanderplatz". Its also very close to our end rally areal! From Alexanderplatz station you can get directly to the Main train station by S-Bahn train. It will take about 15 minutes.
Station "Südkreuz" in in the south of the city. The best way to find to the main train station is to take the train S-Bahn to Friedrichstrasse and then another train to Hauptbahnhof (main train station / central station).
Do you have a large circle of friends and want to organise a bus to the parade on your own?
Maybe you have got some spare seats? Publish them on our ride sharing page!
We may be able to publish more infos about bus rides, but have no time to organise it ourselves. Contact us!
Local transit and the city
For hemp friends in Berlin, the Hanfparade is a mandatory date and the Main Station is well known by everyone. It is one of the most central, biggest meeting points which is easy to reach from every point of the city. Nearby parking lots for cars are not that easy to find..
---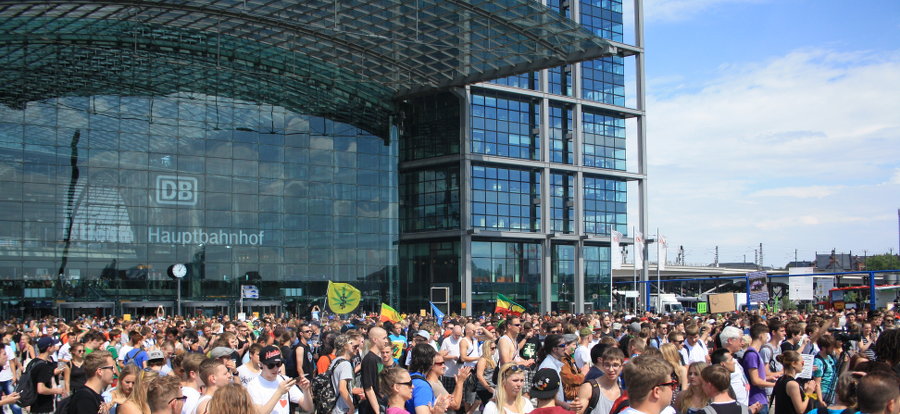 Hanfparade : Getting to the Parade