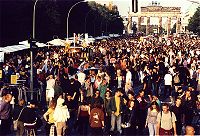 Hemp fan mile
During the final rally the visitors are offered plenty of information and music. For this purpose, a big stage, up to 100 information booths have been given space on the hemp "Fan Mile" in front of the Brandenburg Gate.
In the past few decades a huge range of products have emerged for Cannabis use and cultivation, (legal-) informations, stoner culture, hemp products from food to clothing to building materials. This diversity is to be shown on the Hanfparade not least in the Hemp mile. During the final rally organisations, Head-Grow-Shops, manufacturers and retailers with near scene products have the opportunity to present themselves in an open-air hemp fair.
If you would like to book a stand at the final rally please Contact us as soon as possible.
Hanfparade : Final Rally : Market of Opportunities