Organise a Hemp Demo
How to organise and carry out a pro-cannabis demonstration
Tips and tricks in order to have a successful hemp demonstration!
You are thinking about having a global Cannabis march or demo? We have gained a lot of practical knowledge in organising demonstrations and we would like to share our experiences for you here.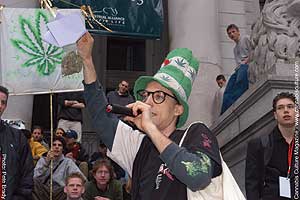 If you live in an repressive country: It is always possible to be arrested. First you have to cope with the fact that imprisonment is the punishment for cannabis activism. But it's always better to be arrested in public and in front of all your friends than some time late at night when no one is watching. Once you have accepted that you could be arrested then you can determine the price paid and not them. You are then free to turn up and enjoy the level of fun... e.g. announce a grass or best plant competition and so on.
Learn from others! There are many organisers around you who have already gained much experience. Engage with the activists in your area.
Choose the right time and appropriate date. A good time to start is 2:00pm. Any time earlier and you would face a higher probability of less participants at the demo. Most people go to work or college and can therefore not participate during the week days.
The best way for a successful smoke-in is when the police are occupied with other large mass's of people and the streets are filled with curious onlookers. For example the beginning of holiday seasons, fireworks and the likes included. Try to coordinate with others, maybe you can start the demonstration after another event is finishing?
Create a poster. Find a person who can design an eye catching poster with clear readable text. Place the location and start time plus a prominent list of other attractions such as speakers, bands, DJs, body painting, clowns, free grass, etc on the poster.
Your poster could mention that "prizes will be handed out at the event for the best costume and placard" .. "Don't bring any trouble but maybe your grass" .. It should also include a phone number so that people who would like to help can get in touch or for more information.
Posters remain in place with a 10:1 mix of water and paste. The posters also stay visible longer if you take a small ladder and paste them higher up than other posters. Maybe you can create smaller posters for smaller areas?
Print flyers to distribute at concerts, festivals and other cultural events. Place posters and flyers at clubs, hemp shops, corner shops or to the campus radio station and even the local newspaper.
Print as many posters and flyers as possible but also make sure you use what you print. 10,000 flyers and 1000 posters can pretty much cover an average city. Spread them at work and into activist networks.
Poster and flyers should be printed and available at least eight weeks before the event. Your whole city and region should be plastered at least a month before the demo.
Make placards. Banners can be hung anywhere. They can also be carried during the demonstration. Simple slogans and Cannabis leaves always work.
In Germany, a demonstration must be registered at least 48 hours beforehand, unless it is a spontaneous demonstration. The relevant authority for the registration of the demo is the "Versammlungsbehörde". For a smoke-in you probably will not receive the necessary authorisation but you can try. In spite of you not getting permission to carry out the smoke-in do it anyway - you can always rely on your rights to free expression.
Either way, send a press release to the media. It is a great way to gain some publicity.
Do not sacrifice any previously acquired tolerance (e.g. Bong sales) just to get permission. Attempts to negotiate with authorities can often be a very large vacuum which sucks away your energy and blur your focus.
After 48 hours of a successful demonstration registration and if no opposition is lodged the demo can be advertised. You might think of getting a good sound system and even have bands playing. If you are planning a bigger event, an insurance might be a good idea.
Try to get a sympathetic lawyer who can help if you have any problems with registration or in case someone is arrested.
Send a press release. All local and regional media of your event should be read at least once a week. Make sure that the press release includes the date, place and time, the reason for the meeting and contact information. You should also call and personally invite sympathetic journalists.
If you're interviewed by the media, decide on one topic and talk about it over and over.
Keep the event peaceful. Make this clear at the beginning of the demonstration with an announcement. We do not want either trouble or that anyone gets hurt - we just want to be loud. This fires up the crowd and makes it harder for the provocateurs.
Plan your parade well. Have some good friends there who can hold up a large banner. The idea will be to hold it up so that it is clear for all to read. In addition, they have to walk very slowly so that the masses stay together.
Have a route planned and ensure that all those at the front know which way to go. The direction should lead past well visited areas, we want to show off our message.
Maybe there will be someone who comes up with the idea to distribute Cannabis, this always goes down well. The people should be well protected. You could suggest to sit in small groups and let the joint circulate.
Film the police. It's always good to have a few people filming the stress created by the cops. The police film the whole time. People should ask the police for what reason they are filming - and why they arrest stoner's instead of real criminals. Or what their thoughts are to the relative harmlessness of cannabis in comparison to caffeine, alcohol or tobacco.
The people that are filming should be friendly but remain determined, concentrate on the police and should not be carrying Cannabis! Our goal is to distract the police and not make them turn in rage.
Get some musicians! If you have money then get some famous people to play some appropriate music or songs of peace or a theatre group. Maybe they will play for free.
Have literature available. You can find out from us where to get books and other information. Call us or send an email.
Collect names and numbers. Do not forget to collect the names and addresses of smoke-in activists, which will help the next time you want to organise an event.
Send a video to Pot-TV. Send them a 15-minute well produced report of the event. They will make it available online as an inspiration for other demo organisers.
Keep the event fun! It is always better to chill at an event and make it a positive experience rather than an aggressive one. No one expects perfection - your efforts will be enough to make the event work!
For questions or suggestions please contact us. We look forward to seeing you - the movement