Participate with your own parade float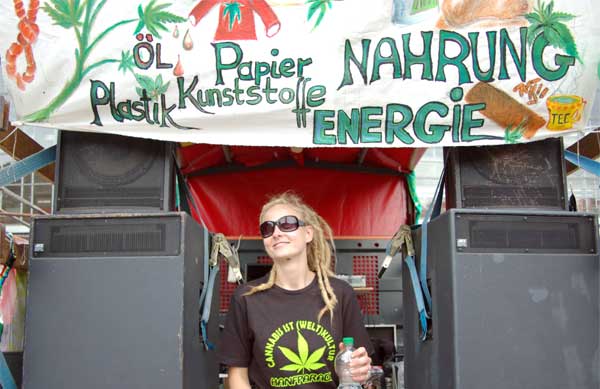 They support the colourful crew on their parade and manage to turn many heads in interest towards them. They are relevant to the cause and through decoration convey our concerns clearly to the public. Floats are indispensable to a demo and make it really meaningful.
To create and prepare your own vehicle and have it participate with the demo is a special opportunity to actively shape the events of the Hanfparade.
Let feelings call upon you with your own thoughts on hemp. Let your views take effect with your main reasons for legalisation and present your sensational, creative message to the government, society and the public!
Your vehicle does not necessarily need to be large. The costs to rent a small truck can be minimal and not set you back too much. Comparing prices can be worthwhile.
It's best to seek out your own private driver, the rental may otherwise be quite expensive. Of course the driver must be "sober" at the parade!
There are no limits, on our part, of the visual and musical style of your float. All designs and genre our welcome.
However, there are safety criteria to observe:
Vehicle must not be higher than 4 m, not wider than 3 m and the height of platforms that are to be occupied must not be over 2.9 m.
Decorative elements and all other items in and on the vehicle must be placed and secured according to traffic regulations (StVO), so that even through hard braking or in a sharp turn they do not fall, move, slide or produce avoidable noise. There should be nothing protruding forward, sticking out the back or side of the vehicle. Walk-in areas shall be equipped with 1m high railings and there shall be no trip hazards.
Also, the decoration should not be readily combustible - do not forget fire protection spray and additional fire extinguishers!
If you have a music system on board, this device shall not exceed a total power of 6,000 watts and should be adjusted so that residents are not extremely disturbed.
It is advisable to have materials available to secure equipment (straps, black-nasty, chains, rope, etc)
Also important are stewards, they should be dedicated, responsible people in your team who would be happy to do this job.
Two stewards are needed per vehicle axle. According to the "Right of Assembly" (Versammlungsrecht) they must be of legal age and are characterised by a white armband with the inscription "Ordner" (steward) which are available in most sport shops.
Please consider these points. Otherwise, the police will decide whether your vehicle may go with the parade or not, it's better to be safe than take a chance and be sorry ;-)
Below you will find a download of the detailed requirements from the police for the Hanfparade 2009 in PDF (which are similar every year) and another PDF of the "Right of Assembly" with general information about demonstrations. Feel free to approach us if you have further questions or want to register a float.
Requirements of the police (PDF, German)
Details of the Assembly Commission (PDF, German) [Source]